My quest to grow and evolve spiritually has taken me to new heights.  As I walk my life path with a heart that is always seeking a deeper and truer union with God, with myself, and with all other beings on the journey, I find myself curious about new experiences that might challenge me, guide me to open to new ways of thinking & being, and support me in my process of growing & evolving.
I had never before in my life climbed a rope, climbed a tree, or even climbed onto a bicycle and rode without training wheels.  The idea of getting on a trapeze scared me to my core.  I had been the one who, in my younger years, dedicated myself to taking as few risks as possible.  (Avoid riding a bicycle; it's possible to fall.  When the volleyball comes toward you in physical education class, move away from it instead of making contact with it.  Don't cook;  it's possible to get burned in the kitchen.)  My overactive imagination was quite adept at brainstorming all that could possibly go wrong in any given situation, and I thought that was a useful tool for keeping me from being put in danger.  Now, I would say instead that the greater danger is to go through life without fully living it.
"And the day came when the risk to remain tight in a bud was more painful than the risk it took to blossom."  ~ Anais Nin
"The biggest risk is not taking any risk."  ~ Mark Zuckerberg
Despite my fears, I was feeling called to step out of my comfort zone, and I reassured myself when going to my first aerial yoga class that it wasn't that big of a leap of faith.  I was already familiar with the yoga part;  it was just the aerial part that was new.  After doing aerial yoga in the yoga hammocks, I gathered up the courage to then try the aerial silks and the static trapeze.
The slogan for Trapeze School New York is "Forget the fear.  Worry about the addiction."  Some might say that I am addicted;  I would say that I am in love…in love with growing stronger, taking safe and healthy risks, stretching out of my comfort zone and exploring how that transforms me in body, mind, and spirit.  Some people come to the aerial arts, because they are looking for a workout that is fun and unusual.  I do enjoy the great physical workout that I get every time, but my reason for showing up is the workout that I get in mind and spirit.
Lifting myself up to new heights and performing skills on the aerial silks, the trapeze, and the lyra (aerial hoop) leads me to discover so many life lessons and to practice these and then to take all of the learning and growth to each situation I encounter in my life.  My mind is almost always full of self doubt when I first see a new skill or sequence demonstrated on the aerial apparatus, but I then have the opportunity to work through the anxiety by using mindfulness, practicing intentional breathing techniques to center myself, listening to my body & my heart, and engaging in positive self talk.  Many aerial skills have helped me to work on trusting myself and trusting my core strength, letting go, balance, communication, working through anxiety, self-compassion, being fully present, stepping out of my comfort zone, expressing myself through artistic movement, and accepting and integrating the various parts of my psyche – the lessons and opportunities for growth are infinite, and I continue to be moved, inspired, grounded (yes!), and uplifted whenever I ascend and open myself to the process.
Dr. Christy Gorigoitia came to the aerial arts while working on her doctorate in clinical psychology and was also fascinated by the body-mind-spirit connection that was possible through this practice.  She founded Aerial Mind in Bethlehem, and she and her brother Juan Pablo (JP) offer to those who attend classes the opportunity to explore the aerial arts and to explore within and then to take the fruits of this exploration and apply these in daily life, taking the lessons learned and the mindful approach to one's school and work, interactions with family and friends, and to life events that come with stresses and challenges and obstacles to climb over.  Because of Christy's psychology background, this program addresses the way that the aerial arts can be therapeutic and can support a progression toward health and wholeness in body, mind, and spirit.
Another aerial instructor whom I've trained with is Kayla Dyches who performs under the name Riot Circus Arts.  Kayla credits the aerial arts for turning her life around after battling anorexia, as she decided she'd rather be strong than skinny.  Kayla is also a personal trainer who inspires those whom she works with to create the best version of themselves through dedication and commitment.
I've taken aerial classes here and there whenever possible while traveling as well, even trying some classes taught in the German language last month when on a trip abroad.  The well-intended concerns from family and friends that I am going to run away and join the circus are unfounded.  I keep coming back to the aerial arts, because I know that this work supports me in everything else I do in life – in my teaching, in my music, in my way of being in the world.
I've thought about how it's possible to go through life without being fully engaged and awake in each moment.  It's common for our minds to wander as we do mundane routine chores and even as we complete tasks in our jobs or connect in conversation with friends.  On the other hand, when I am climbing the aerial silks, wrapping the fabric around myself, and then inverting my body and holding an upside-down pose, it is necessary (in order to be safe) to be fully engaged at all times.  At the same time as my body, mind, and spirit are fully engaged, I am also using all of my strength and resources as I ascend to new heights and perform skills and sequences in the air.  I feel fully alive and find that I am then empowered to take that feeling of being "all in" to the rest of my life.  Just last month, I tried out the flying trapeze for the first time at Trapeze School New York (TSNY) in Washington, D.C.  Trust me:  It's not possible to have other things running through your mind when you are about to jump off of a platform and fly through the air twenty-three feet above the ground and then to be asked in a matter of 5-10 seconds to hook your knees on the bar, let go with your hands, and do a back flip or to be caught by extending your hands to connect with an experienced trapeze artist.
Climbing to new heights and flying through the air encourages me to rise above limitations and to approach life with a free and willing spirit and a playful heart.  The research on the benefits of play for adults support this kind of experiential healing and development that I am doing in the aerial studio.  I am in love with life, and will continue to lift my body, mind, and spirit as I lift my voice.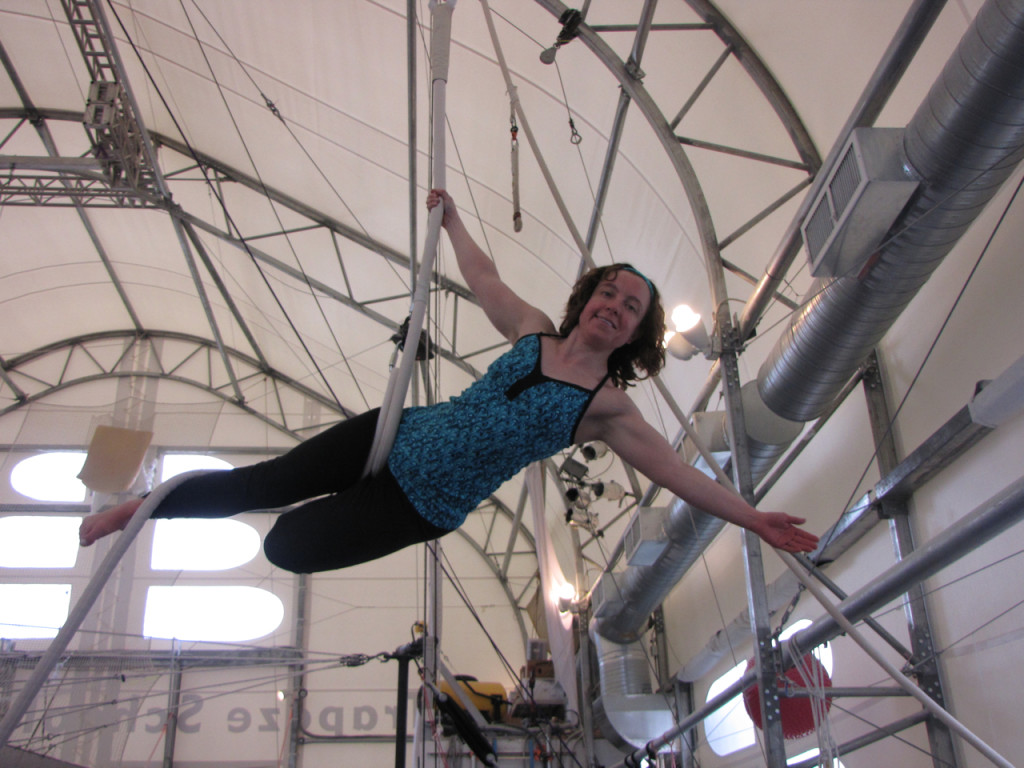 Copyright © 2015 by Dr. Susan M. Featro, Voice Lifted.  All Rights Reserved.