I have mentioned InterPlay before in my blogging.  I am grateful for the opportunity I have every week to participate in an InterPlay class at Wellspring Holistic Center in Stroudsburg, PA.  InterPlay is an active, creative way of tapping into the wisdom of the body through improvised movement, storytelling, and dance.  The group of people who come together to participate in our InterPlay classes is truly a family – a perfectly imperfect circle of men and women who are committed to supporting each other in personal growth through embracing play and vulnerability.
Our topic of exploration at class for the past two weeks has been stepping out of our comfort zone.  We have participated in powerful and moving explorations through movement, through story, and through song;  these have been full of tears and laughter and heartfelt sharing that was spontaneous and creative and rich in wisdom and beauty.
One thing I know for sure is that it's not easy to step outside of one's comfort zone.  I struggle with doing this, fearing that I will not be a success, fearing judgment and ridicule by others, and fearing rejection and abandonment.  Those are major risks!  Yet, I know that if I don't step out of my comfort zone, I will miss out on many experiences that could be very rewarding and truly awesome…and I could end up "in a rut" if I don't take those risks.  I know that…but/and I hesitate to step out of my comfort zone.  I have great desire and strong intentions…yet I often find myself in the position of…not quite…not ready yet.  And then I get very frustrated with myself.
A step outside of one's comfort zone is a step into a new territory where learning and growth can occur.  If we take too wide of a step, it can be a shock to our system, and we might even prevent ourselves from taking future risks if we are consumed by panic as we experience the completely unfamiliar, but a reasonably incremental step out of our comfort zones is good for our bodyspirits.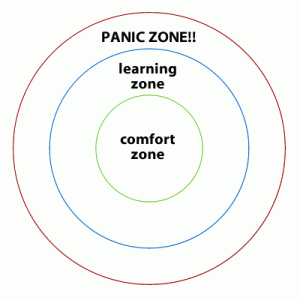 So the last two InterPlay classes were an important time for me to explore and process all of this, and I continue to work and play with it.  There are many ways, big and small, that I can step out of my comfort zone that would make a difference in the world…for others and for myself.  If I attend a meeting and don't speak up, I have short-changed the group from my ideas and input…and I also leave with the feeling that I haven't really given my all.  I don't want to do that again.
That's just one example.  There are many places in my life where I will focus on stepping out of my comfort zone as I move forward and take the wisdom from these InterPlay explorations with me.  Now it's your turn:  What is out of your comfort zone?  What things do you hold back from doing?  Would you like to step out of your comfort zone?  How do you plan to go about this?  Please share in the comments below!